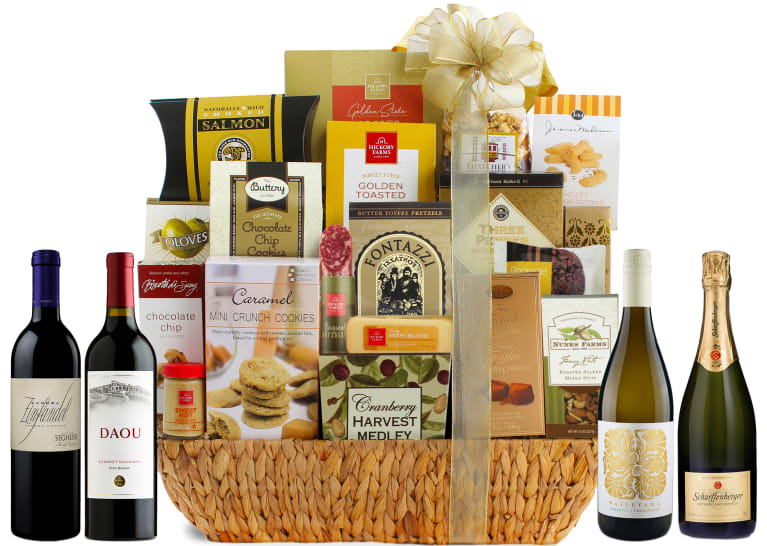 90 Point Grand Gourmet Wine Gift Basket
Description
We filled this basket to the brim and paired it with an incredible selection of four delicious wines sure to impress the discerning palate: DAOU Cabernet Sauvignon, Scharffenberger Brut Excellence, Baileyana Firepeak Chardonnay, and Seghesio Sonoma Zinfandel. For food and treats, we added a collection of superb goodies and tied everything up with a gorgeous bow. The perfect gift!
Wine Gift Basket Includes:
2020 DAOU Vineyards Cabernet Sauvignon:
A rich and compelling nose of blackberry, cassis, smoky leather and dried herbs is enhanced with layers of plum and cherry, cocoa and sandalwood. Notes of pencil lead and crushed rock mingle with subtle nuances of sage and menthol. Bold and full bodied, this wine is structured firmly around a solid core of boysenberry and cherry fruit. Supple, ripe tannins provide ample backbone for the layers of boysenberry, black cherry, licorice and dried herb flavors. Fleshy and weighty on the palate while retaining balance and finesse, it finishes long and clean with lingering notes of plum and blackberry.
Rated 92 Points: Jeb Dunnuck
Scharffenberger Brut Excellence:
Scharffenberger Brut Excellence is made by the traditional méthode champenoise process – whereby the wines are individually bottle-fermented before being riddled and disgorged. The wine is approximately two-thirds Pinot Noir and one-third Chardonnay and undergoes 100% malolactic fermentation.
Rated 91 Points: Wine & Spirits
2018 Baileyana Firepeak Chardonnay:
The Chardonnay from Baileyana's Firepeak blocks is unique in many ways. The cool climate, long growing season of the Edna Valley, and the unique soil profile found on the Baileyana estate allow for intense varietal flavor, optimum ripeness all while preserving their trademark energetic acidity. The winemaker's intrinsic talent of blending small lots of Chardonnay into one exemplary wine each vintage is what makes the Firepeak Chardonnay so special.
Rated 90 Point: Wine Enthusiast
2019 Seghesio Sonoma Zinfandel:
An expressive burst of aromas of deep dark fruits lead into layered tones of lifted red fruit and a soft, luscious mid-palate. A juicy, vibrant entry with notes of mint, sarsaparilla, and fresh plum is interwoven with supple, textured tannins and acidity on the long, complex finish.
Rated 90 Points: Jeb Dunnuck
Alaskan Smokehouse Salmon Fillet 2 oz
Partner's Three Pepper Blend Water Crackers 4 oz
Hickory Farms Creamy Swiss Cheese Blend 4 oz
Oloves Bistro Style Whole Mixed Olives 1.1 oz
Italian Dry Salami 5 oz
Hickory Farms Sweet Hot Mustard 2.5 oz
Hickory Farms Golden Toasted Crackers 1.5 oz
J&M Cheddar Cheese Straws 2.5 oz
Golden Gate Goodies Chocolate Covered Oreos 8 oz
Fontazzi Butter Toffee Pretzels 2 oz
Cranberry Harvest Snack Medley 2 oz
Nunes Farms Roasted Salted Mixed Nuts 3.5 oz
Caramel Mini Crunch Cookies 6 oz
J&M Chocolate Brownie Cookie 1 oz
Chocolate Chip Biscotti by Biscotti di Suzy 1.8 oz
Thatcher's Caramel Popcorn 3 oz
Buttery on Main Chocolate Chip Cookies 2 oz
Chocolate Wafer Cookies 2.1 oz
Jacques French Truffles 3.5 oz
Large Reusable Water Hyacinth Basket
Gift components, gift baskets, ribbon, wine or vintages can sometimes sell out due to the popularity of our gifts. If this happens, we will always substitute with replacements of equal or greater value such as similar gift components, gift baskets, ribbon, wines, or alternative vintages. Pursuant to state laws in New York, gifts that contain both food and wine will be sent in two separate packages.
ADXFL1W5L62537_0
Item#
62537