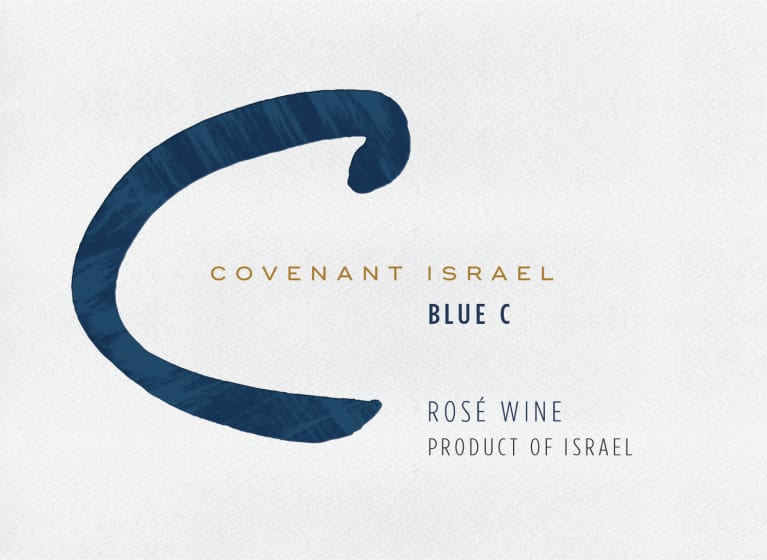 Covenant Israel Blue C Rose (OU Kosher) 2020
Last call - only 6 left!
Ships Tomorrow
Winemaker Notes
Blue C Rosé is barrel fermented in neutral French oak. On the palate you will find hints of raspberry, strawberry, lemon, and grapefruit. The finish is crisp and fresh.

In 2011, a trip to Israel by Covenant founders Jeff Morgan and the late Leslie Rudd sparked a desire to make wine in Israel as well as in California, where they have made Covenant wines since 2003. The wine regions of Israel so reminded them of France's Rhone Valley as well as some of their California vineyards. The call of Israel proved so strong, that they made their first vintage of Covenant Israel in 2013. Since then, the Covenant Israel project continues to be an amazing journey for them, one that they are happy to share with you in your wine glass!

With a rich history of wine production dating back to biblical times, Israel is a part of the cradle of wine civilization. Here, wine was commonly used for religious ceremonies as well as for general consumption. During Roman times, it was a popular export, but during Islamic rule around 1300, production was virtually extinguished. The modern era of Israeli winemaking began in the late 19th century with help from Bordeaux's Rothschild family. Accordingly, most grapes grown in Israel today are made from native French varieties. Indigenous varieties are all but extinct, though oenologists have made recent attempts to rediscover ancient varieties such as Marawi for commercial wine production.
In Israel's Mediterranean climate, humidity and drought can be problematic, concentrating much of the country's grape growing in the north near Galilee, Samaria near the coast and at higher elevations in the east. The most successful red varieties are Cabernet Sauvignon, Merlot, and Syrah, while the best whites are made from Chardonnay and Sauvignon Blanc. Many, though by no means all, Israeli wines are certified Kosher.

Whether it's playful and fun or savory and serious, most rosé today is not your grandmother's White Zinfandel, though that category remains strong. Pink wine has recently become quite trendy, and this time around it's commonly quite dry. Since the pigment in red wines comes from keeping fermenting juice in contact with the grape skins for an extended period, it follows that a pink wine can be made using just a brief period of skin contact—usually just a couple of days. The resulting color depends on grape variety and winemaking style, ranging from pale salmon to deep magenta.
PRI39160_20_2020
Item#
745597