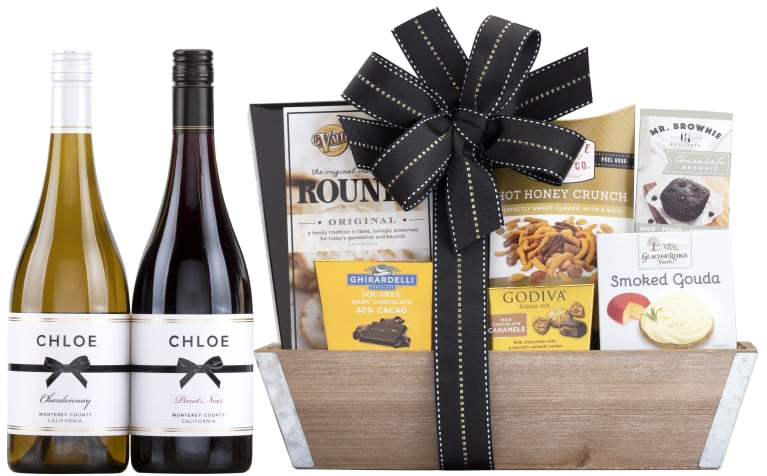 Delectable Duet Wine Gift Basket
Description
Celebrate with this delicious pair of wines from Chloe winemaker Georgetta Dane. This Collector's Series Pinot Noir and Chardonnay accompany gourmet crackers, savory cheese, chocolates, and more. We've even matched the basket's ribbon to the wine label. Makes a wonderful gift!
Wine Gift Basket Includes:
Chloe Pinot Noir
Chloe Pinot Noir is an elegant, yet complex wine that delivers supple structure, ripe fruit flavors and robust aromas. It exudes fruit-forward flavors and aromas of fresh strawberry, juicy plum, and black cherry. A plush, velvety mouthfeel is followed by an undeniably, satisfying finish with soft notes of spicy clove and vanilla.
Chloe Chardonnay
Chloe Monterey County Chardonnay is a rich, sophisticated wine with ripe flavors of fresh citrus, apple, and pear with notes of creamy butter followed by soft hints of vanilla and toasted oak. The resulting wine is exceptionally well-balanced with sophisticated intensity, a creamy mid-palate, and an unforgettable, silky finish.
Glacier Ridge Farms Smoked Gouda Cheese Spread 3.5 oz
Valley Lahvosh Sesame Rounds Crackers 2.0 oz
Creative Snacks Hot Honey Crunch Mix 1.5 oz
Mr. Brownie Chocolate Brownie 0.9 oz
Godiva Milk Chocolate Caramels 0.5 oz
Ghiradelli Squares, Dark Chocolate 60% Cacoa 0.8 oz
Water Hyacinth Basket
Gift components, gift baskets, ribbon, wine, or vintages can sometimes sell out due to the popularity of our gifts. If this happens, we will always substitute with replacements of equal or greater value such as similar gift components, gift baskets, ribbons, wines, or alternative vintages. Pursuant to state laws in New York, gifts that contain both food and wine will be sent in two separate packages.
PDX127405FL_0
Item#
127405