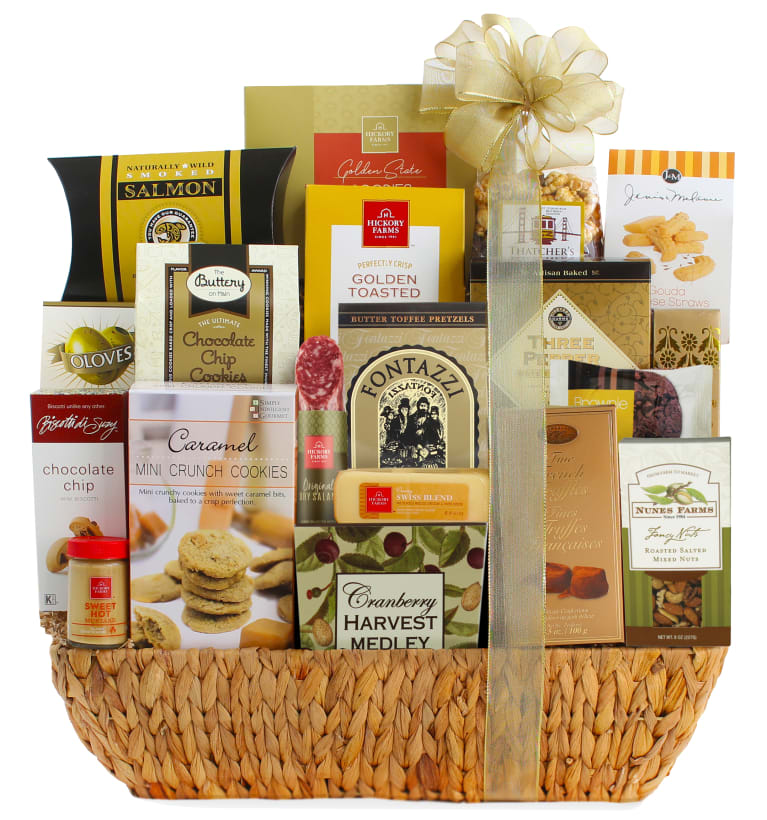 Grand Gourmet Gift Basket
Description
This magnificent gift basket overflows with mouth-watering savories and confections. We've packed it with things like salami and mustard, cheese and crackers, and truffles and cookies. With something to delight everyone, this gift makes a lasting impression!
Gift Basket Includes:
Alaskan Smokehouse Salmon Fillet 2 oz
Partner's Three Pepper Blend Water Crackers 4 oz
Hickory Farms Creamy Swiss Cheese Blend 4 oz
Oloves Bistro Style Whole Mixed Olives 1.1 oz
Italian Dry Salami 5 oz
Hickory Farms Sweet Hot Mustard 2.5 oz
Hickory Farms Golden Toasted Crackers 1.5 oz
J&M Cheddar Cheese Straws 2.5 oz
Golden Gate Goodies Chocolate Covered Oreos 8 oz
Fontazzi Butter Toffee Pretzels 2 oz
Cranberry Harvest Snack Medley 2 oz
Nunes Farms Roasted Salted Mixed Nuts 3.5 oz
Caramel Mini Crunch Cookies 6 oz
J&M Chocolate Brownie Cookie 1 oz
Chocolate Chip Biscotti by Biscotti di Suzy 1.8 oz
Thatcher's Caramel Popcorn 3 oz
Buttery on Main Chocolate Chip Cookies 2 oz
Chocolate Wafer Cookies 2.1 oz
Jacques French Truffles 3.5 oz
Large Reusable Water Hyacinth Basket
Please note that due to the popularity of this product, in some cases we may need to substitute items of equal or greater value.