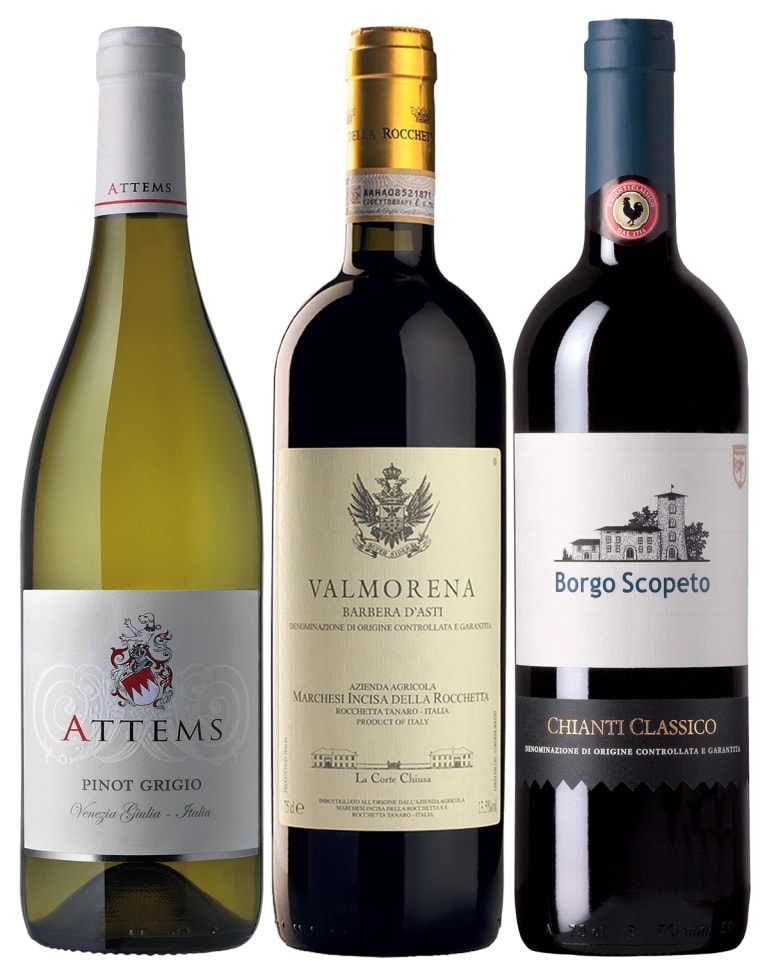 Description
Italy is one of the most diverse wine growing regions in Europe. Take a tour through Italy's wine regions as you sample the varietals that have become hallmarks of Italian wine. This trio includes a light and crisp Pinot Grigio, a Barbera d'Asti, and a Chianti. Makes a great gift!
Wine Gift Set Includes:
Borgo Scopeto Chianti Classico
Dark ruby red. Bouquet is full and intense but at the same time sweet and fruity, with hints of black soft fruit. Pleasant overtone of noble wood, vanilla and cocoa and a surprising cherry finish. Dry, firmly structured, austere and elegant on the palate; well balanced. Excellent persistence of the flavor on the palate.
Marchesi Incisa della Rocchetta Valmorena Barbera d'Asti
A deep ruby red hue. Intense with notes of violet and maraschino cherries. Rich middle notes are nostalgic of dates and figs. The palate is powerful and fresh. With notes of white pepper and chocolate. It is balanced with a persistent finish.
Attems Pinot Grigio
The wine is a clear, straw yellow. The nose expresses great personality with fresh aromas of white peach, citrus peel and wildflowers as well as definite scents of sap, thyme and toasted bread. In its structured body we find a wine with a balanced, complex flavor and a persistent finish of white pepper, avocado and walnut.
Printed insert that describes the featured wines
Due to the popularity of this gift, wines or vintages sometimes sell out. Should this happen, we will always substitute with wines of equal or greater value.
PDX135252FL_0
Item#
135252