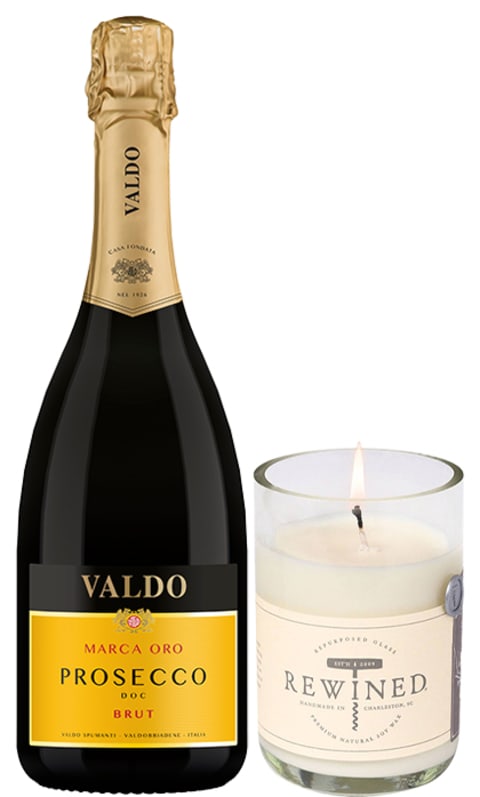 Rated Prosecco & Rewined Candle Gift Set
Ships today if ordered in next 6 hours
Description
We're excited to introduce this new collection that pairs highly-rated Prosecco with the newly launched Prosecco candle from Rewined. We recommend unwinding by lighting this Rewined candle and opening the paired bottle of Prosecco. This luxury candle is made from a repurposed wine bottle, and filled with oils carefully blended to develop a fragrance that embraces the delicious flavors and aromas of Prosecco. Makes a great gift for wine lovers, candle lovers, or those who love all things green!
Wine Gift Set Includes:
Valdo Marca Oro Prosecco
Straw yellow color, with a fine perlage, and crisp fruity palate are the distinguishing features of Valdo's Brut Prosecco DOC. Well-balanced structure, matched with aromatic fruity fragrance make it the perfect pairing with starters and particularly with delicately flavored dishes such as seafood. Excellent as aperitif due to its distinctive characteristic of being "easy to drink", best served in a flute glass at a temperature of between 43-46°F to bring out its perfumes and flavors. Versatility and freshness are its strengths.
Rated 89 Points: Wilfred Wong
Rewined Signature Wine Bottle Candle
11 oz hand poured premium soy wax candle. The glass container is hand crafted from recycled wine bottles. The luxurious candle fragrance is inspired by the Prosecco wine varietal. Notes of fresh pear, green apple and floral aromas.
Due to the popularity of this gift, vintages sometimes sell out. Should this happen, we will always substitute with the current vintage or wines with equal or greater value. Pursuant to state laws in New York, gifts that contain both accessory and wine will be sent in two separate packages.
PDX610712FL_0
Item#
610712